Other Features
Single File Fractal Collections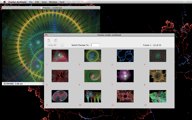 Click on me!
Supports files with multiple distinct fractals in them or files having multiple frame animations for video production. See thumbnails for up to 25 frames at a time and quickly switch between them for editing.
Other Key Features
Electric Sheep and Apophysis Compatibility
Compatible with archived Electric Sheep fractal files available on the Internet and also with many fractals created with the Apophysis app.
Mac Finder Plugin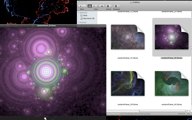 Click on me!
Mac Finder Integration: includes plugin that produces Finder thumbnail images for your fractals and allows you to use Finder Quicklook to see a larger image view without opening the file.
QuickTime video creation
YouTube: Flame Fractal Animated
Creates QuickTime videos from fractal files containing complete animation frame sequences. (Note: version 1.0.0 does not include an sequence animator -- yet.)
Examples Gallery Included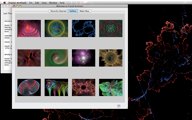 Includes a Gallery with pre-defined better than average fractals as a starting point for further enhancement or study.