Fractal Triangle Editor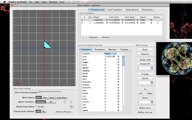 Click on me!
The Triangle editor gives you an interactive graphical interface to modify the internal structures of your fractal. This editor allows you to alter the shapes that the fractal produces.
Fully Interactive Triangle Editing
Using just the mouse or trackpad, you can rotate, enlarge/shrink, warp, or move any triangle. As you play with the triangles, you get real-time re-rendering of the fractal thumbnail. This way you get instant feedback on how your fractal is changing.
See: Triangle Editor
QuickSpin - Interactive parameter editing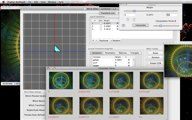 Click on me!
Fractal parameters can be very confusing and hard to predict how changing each value effects the fractal's appearance. QuickSpin allows you to interactively change a fractal parameter's value and instantly receive feedback on the change's effect. Not only that, but QuickSpin can vary a parameter's value over a range you set, and show you the resulting sequence of thumbnails from which to choose from.
Color Gradient Editor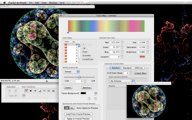 Click on me!
Complete control over the colors in the gradient. Create new random gradients with optional Color Harmony schemes.
Examples of Different Colors
Fractal Orientation/Size/Placement Editor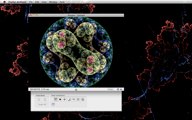 Photo editor style manipulation of the fractal image: Enlarge/shrink, rotate, and/or move it around using mouse or multi-touch gestures. Crop images to different aspect ratios - important when creating Desktop backgrounds for different monitor display sizes/aspect ratios.
Supports both mouse and multi-touch capable trackpads such as Magic Trackpad or recent Mac laptop trackpads.